2546

15
Oct

kinshi reblogged this from ellabels and added:

(via rouellaaben) He know everything..
||
SHANON MAE PEREZA LAGRANA.
|| Sha. Shawee. Shan. Shanny. Sha-Sha. Shanskie.
Anung Kululong
.
Filipina. 24. Adds a year old every 17th of February. Born in Manila in 1987, grew up in Makati City since I was a baby. I have the coolest TWIN SISTER, Sheryl Mae. Our family has 3 pairs of same sex twins: MY MOM and her TWIN, their youngest other PAIR of twin, and of course ME and my TWIN SISTER. NURSES and TEACHERS are the only profession in the family. The guys in the family mainly has the talent in COOKING. 1/2 of the family are Born Again Christians & my Dondie-Dindo too, others are Roman Catholics.
Superrr Duperrr Überrr loves the color RED. Other colors that attract me are: BLACK, GRAY, GREEN and PURPLE. COFFEE ADDICT. Frustrated Layout/ Graphic Designer. OBSESSIVE-COMPULSIVE. Photography - Random Shots. Enjoys TRAVELLING to different places. HANSON FAN since 1997. ♥
Registered nurse [Graduated in Concordia College Manila Batch 2008-Passed Local Nsg Board Exam on June 2008]. Currently working as a Staff Nurse in Ospital ng Makati (OSMAK, Pembo, Makati City).
Tumblr Member since
20th of July 2009
♕ KEEP CALM AND DRINK COFFEE!
 Fans Currently Online Ü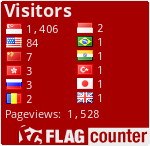 Page 1 of 1